ALF
SG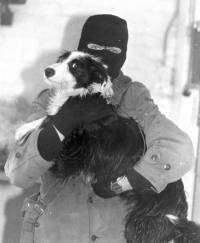 current animal rights prisoners of conscience
Updated: 29 April, 2013
Please write cards or letters to the following prisoners. Even if you just send a card with a brief message, receiving a message of support from the outside world can make a huge difference to the prisoner. Remember all correspondence is read by prison staff. Also don't expect a reply as there is a limit to the number of letters each prisoner can write. Many prisons in the Uk are signed up to the 'Email a Prisoner' service, where you can email letters to all UK AR prisoners, see their website for more details: http://www.emailaprisoner.com

Cheques & Postal Orders

Please note that details of who the cheques/POs should be made payable to are listed below. The prisoner's name and number should be printed clearly on the back of the cheque/PO. The prisoner will then forward the cheque/PO to be processed. Please also include a Stamped Addressed Envelope (SAE) for the prisoner to acknowledge receipt, and indicate in your letter that you have done so.

uk prisoners

Jump to:
top - international prisoners


George House (A5822CW) - New prisoner - 07/03/13


HMYOI Werrington, Stoke on Trent, Staffordshire, ST9 0DX, UK

George has been sentenced to 12 months on 7th March 2013 for alleged burglary and criminal damage at Warwick Uni when he went inside to look at the conditions of the animals there. Please write to him, more news soon.

Birthday: 8th June

Hayley Kent - Released - 02/04/13

Hayley had been sentenced to 6 months for campaigning against farm animal exploitation. Support page. Update - 02/04/13 - Hayley has been released, she thanks everyone for the support she received in prison.

international prisoners
Jump to:
top - UK prisoners - For US prisoners, please use the BOP inmate locator to check for any prison changes
Walter Edmund Bond, 37096-013
USP Marion CMU, PO Box 1000, Marion IL 62959, USA

Walter Bond, was arrested by federal agents on 22nd July 2010 after his brother informed on him and he was sentenced on 11th Feb 2011 for burning down the Sheepskin Factory in Glendale, Colorado. On 14th Oct 2011, Walter was sentenced to a further 87 months in prison for the ALF arsons in Utah. This new sentencing will run consecutive with his time in Colorado. This gives Walter a total of 12 years for his actions as the ALF Lone Wolf.

Support page: www.SupportWalter.org

Birthday: 16th April

Marie Jeanette Mason, 04672-061


FMC Carswell, Federal Medical Center, P.O. Box 27137, Fort Worth, TX 76127, USA.
According to the BOP inmate locator, Marie Mason is at the Federal Medical Center in Fort Worth. Although rumors continue to swirl, there is no confirmation at this time as to where Marie will end up. Marie is vegan.

Please drop Marie a line. If you are writing a longer letter, we recommend you photocopy it, in case she is moved again by the time it arrives. This way you can resend it again later.

Marie was sentenced on 5th February 2009 to an outrageous 21 years and 10 months imprisonment for ELF/ALF actions.
http://freemarie.org/ and http://supportmariemason.org
Birthday: 26th January

Eric McDavid, 16209-097
FCI Terminal Island, Federal Correctional Institution, PO BOX 3007, San Pedro, CA 90731, USA.
Eric was sentenced to just under 20 years imprisonement for conspiring to think about actions! (Part of an FBI sting operation)
Birthday: 7th October
www.supporteric.org
Steve Murphy, 39013-177 - New Address - 20-12-12
McMullen B, FCI Three Rivers, Federal Correctional Institution, P.O. Box 4200, Three Rivers, TX 78071, USA


Steve Murphy was charged with a 2006 E.L.F. action in Pasadena, CA. and was recently sentenced to 5 years on April 5th, 2010 after previously pleading guilty. Steve is also an animal rights activist and vegan.
Birthday: 3rd September

Support site: http://supportsteve.org/

Viktor Padellaro
Anstalten Kirseberg, Box 3097, 200 22 Malmö, Sweden

Viktor was sentenced to three years and six months in prison for arson at a McDonald's in Gothenburg, for smashing windows at a restaurant he believed to be serving shark-fin soup, and for sending allegedly threatening letters to fur store owners, AstraZeneca employees and others involved in animal abuse. Viktor has been detained on remand since his arrest in August 2011.

You can also send emails of support to: S.GBG.VEGAN@gmail.com and they will be printed out and sent to him. Support page.

Birthday: 27th December

Note: ALFSG are aware of Viktor's past links to fascist groups. Viktor has released a statement in which he expresses shame at his former association with fascists before his AR actions. We are convinced that Viktor is being truthful about his change of heart. We believe that people can change for the better. But individuals can make their own decision on whether to support him or not.

Justin Solondz, 98291-011 - Moved - 10-09-12
FCI Loretto, Post Office Box 1000, Loretto, Pennsylvania 15940, USA.


Justin Solondz has been sentenced to 7 Years in prison for part in arson from 2001, after being on the run and then later in custody in China for a non-activism offence. He was accused of actions under the Earth Liberation Front/Animal Liberation Front. Briana Waters, his former comrade and friend turned informant.

Birthday: 3rd October

Support page: http://supportjustin.org/
Jump to: top
To subscribe to the ALF SG email list, either send us an email or subscribe automatically at: https://lists.rbgi.net/mailman/listinfo/alfsg